The Ash Wood Outdoor Collection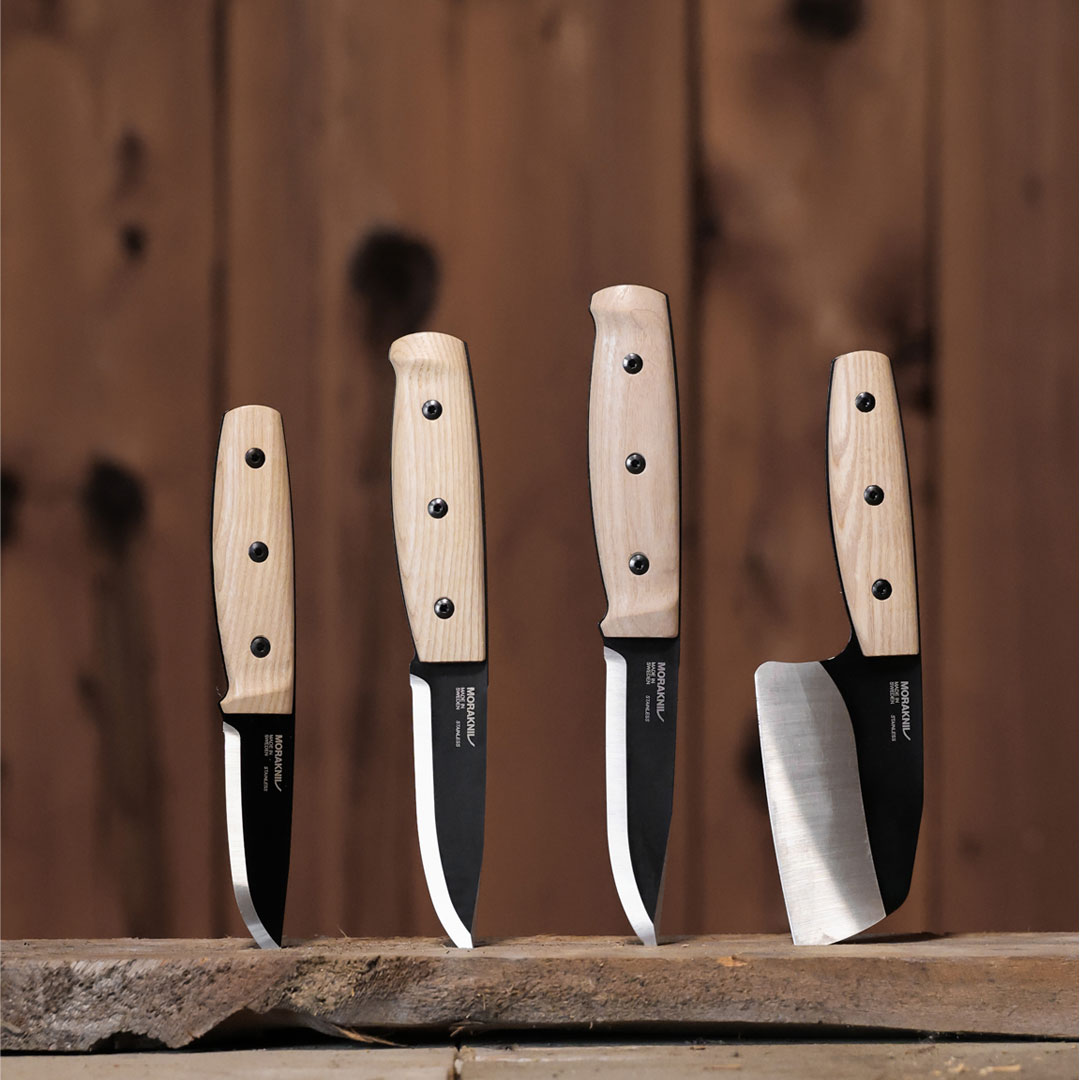 Morakniv proudly presents the greatest collection of outdoor knives in decades. With the new knives we look centuries back in time and note that the story of our dear Morakniv begins long before our company first saw the light of day.
The family names that tell our story
There has always been a strong craft tradition in Mora, thanks to the proximity to Swedish nature, rich in materials such as iron ore and timber. People from Mora have made sharp knives for the rest of the world for more than 400 years.
As long as there have been knife makers in the area, Anders and Erik have dominated men's first names for several generations, just as Anna and Kerstin have done for the women. In fact, children were often given the same name as their parents or grandparents. When there were too many people in the same village named Anders or Anna, a family name was added before the first name.
The family name could be taken from a previous relative's skill, an ancestor's name, or from some geographical phenomenon. Then an Anna could be named Smids-Anna, whose ancestors were a blacksmith, or Anders could be named Sol-Anders because he came from the neighbouring island, Sollerön.
You see, these family names share a common thread throughout our history. That's why we proudly present our new collection of wooden-handled knives. The names of which come from people who in one way or another were involved in the foundation for knife manufacturing in Mora. With the knives Finn, Wit, Lok & Rombo, we look decades back in time and note that the story of our dear Morakniv begins long before our company first saw the light of day.
The story of Finn
The first recognised manufacturing knife factory was founded in 1870 by the 1870 innovator Finn-Anders Andersson, who at the time worked at Mora Mekaniska Fabriks AB,which manufactured sewing machines. FA Andersson's Täljknivsfabrik's success really took off when the sewing machine factory was shut down a few years later due to overwhelming competition from abroad.
The story of Wit
Wit-Anders Eriksson worked day in and day out as a tool maker knife factory Frosts Knivfabrik in Mora. Not only was he a skilled craftsman, he was also known for his sense of form and interest in the design of knives. He also played a role in the creation of the beautiful Wit-Anders knives.
The story of Lok
Another Anders who at the beginning of the 20th century sought his luck in the knife business was Lok-Anders Mattsson who, together with Krång-Johan Eriksson, founded the knife factory Eriksson & Mattsson's Knivfabrik. With Lok-Ander's ingenious touch and Krång-Johan's business mind, prosperous conditions were created for the company we all know as Morakniv.
The story of Rombo

Rombo-Anders Eriksson Ström was contemporary to the early knife manufacturers from Mora and went from being the region's trusted shoemaker to making durable knife sheaths in volcanic fiber. However, the road to success was longer than Rombo-Anders could imagine when he was initially met with skepticism from the manufacturers. It was only when he demonstrated the advantageous economics of the new material that knife sheaths really caught on.
The collection
The knives in this collection reflect how they originally made knives that would last a lifetime. You see, all handles are made of bright ash wood, have full tang black knife blades of recycled Swedish stainless steel, and are secured in protective black vegetable tanned leather sheaths. Making the new collection entirely out of natural materials.
To own a knife made by Morakniv is both economically and environmentally sustainable. But all knives need a certain amount of maintenance and care.
Our recycled Swedish stainless steel blades are easy to maintain as they have been treated to withstand rust and corrosion. Remember that even though the blade is stainless, salt marks or such may still appear on the blade and can be hard to remove over time.
However, if the knives get dirty, it is always good to make it a habit to rinse the blade under running warm water after use and wipe it dry.
The handles have been fixed with screws and are replaceable. We recommend that you do not dismantle the screws more than a few times. This ensures that the knives are fully recyclable.