SOLD OUT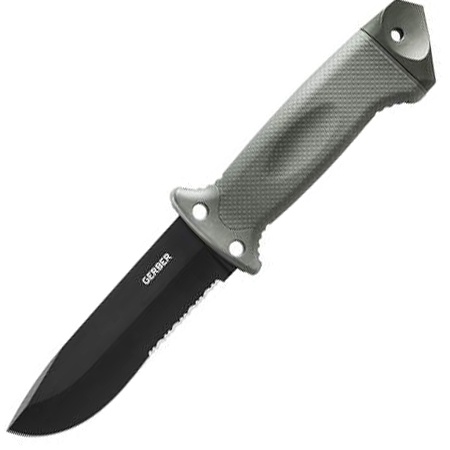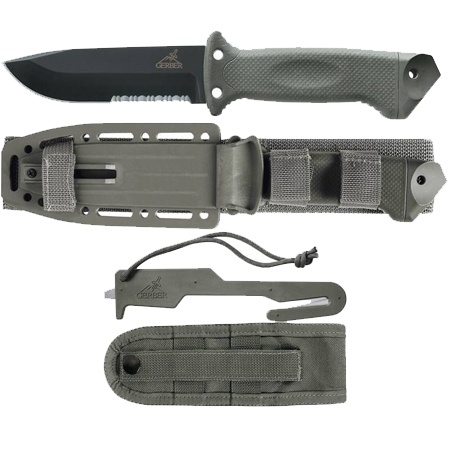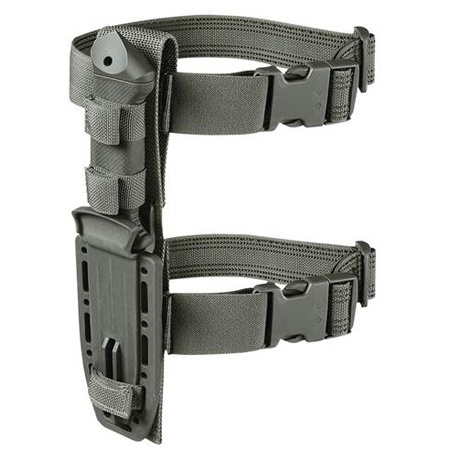 GERBER LMF II ASEK - FG504 GREEN
213.90 €
Field tested with American troops, this 10 inch survival knife was engineered in partnership with our country's bravest. This MOLLE compatible knife is rugged and versatile, with a partially serrated blade that can also serve as pommel or a spear. The sheath includes a built-in blade sharpener.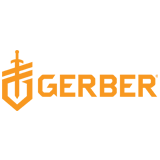 AIRCRAFT EGRESS
Every Gerber product has a story to tell. The story of the LMF II is one of resilience and resourcefulness, of being on the wrong side of sticky situation and living to tell the tale. The purpose driven design of this knife stems from the experience of former military man Jeff Freeman, combining thoughtful design features and life-saving application.
Originally designed to free an aircrew from a downed aircraft, the LMF II is tough enough to cut through the fuselage of an aircraft and smart enough to ensure you are safe while doing so. The knife has a purposeful break between the tang and the butt cap, providing insulated protection against stray wires and absorbing any shock from hammering.
This 10" survival knife was built to adapt to any scenario thrown at it – ensuring comfort, versatility, and safety when you need it most.
Specifications
Overall Length: 26.24 cm.
Blade length: 12 cm
Weight: 692 g (with Sheath)
Weight: 333 g (without Sheath)
Blade Material: U.S. 420HC Stainless Steel
Blade Style: Drop Point
Blade Type: Serrated
Handle Material: Glass-filled nylon with TPV overmold
Sheath Material: Ballistic nylon with fire retardant coating
Strap Cutter
Made in USA

| | |
| --- | --- |
| Weight | 0.692 kg |
| Colors | |
| Τύπος λάμας | |
| Συνολικό μήκος | |
| Blade Length | |
| Βάρος (γραμμ.) | |
| Τύπος ατσαλιού | |
| Υλικό λαβής | |
Brand
Gerber
Founded in 1939 and based in Portland, Oregon, USA, Gerber is an American brand whose products have global reach and relevance. Carried extensively by hunters, soldiers and tradesmen, Gerber's heritage runs deep. And we are now looking toward the future, where tomorrow's problems will be solved by the next generation of innovations.All Gerber products are designed and engineered in Portland, OR where many are produced. We also tap our global supply chain to create a wide range of activity specific gear for wide variety of consumers. And no matter what, every product that bears the Gerber name is backed by our famous lifetime warranty.Quality, reliability, innovation. For over 70 years this is what our customers have expected from us. And whether our products are used to save time, save the day, or save a life, Gerber always delivers.