Description
Where a floating knife is of high importance, it's features also make this knife a perfect tool for water sports enthusiasts. The Mora Floating Knife fine edge is a fixed blade knife that actually floats, thanks to the cork handle. Its light weight makes this knife perfect for a back­pack or emergency kit. A very lightweight knife with an lime core that makes it highly visible and easy to locate. An lime high visible sheath with a smart button lets you connect and link several knives from our Craft segment, giving you the opportunity to carry your preferred combination of models. The coil formed rounding of the ergonomic handle made of cork is a pleasure to hold and doesn't conduct cold. Easy to take with you by connecting it to your belt, backpack or lifesaving vest with the clip on the sheath. The thin blade of stainless steel is specially designed for cutting rope, fiber, and nylon.
WEIGHT: 79.5 gr
BLADE LENGTH: 9.7 cm
LENGTH: 23.5 cm
BLADE THICKNESS: 1.4 mm
TYPE OF STEEL: Stainless Steel
HANDLE MATERIAL: Cork
COUNTRY OF ORIGIN: SWEDEN
Brand
Morakniv
Since the 17th century, knives made in Mora, Sweden have been used by people all over the world.
The Mora knife has become one of the most famous symbols of Sweden and over the years it has evolved from a simple everyday concept to the established brand Morakniv®.
Our knives are produced in Mora which gives us total control over the manufacturing process. A Morakniv® is designed to stay extremely sharp.
The steel of the blade is heat treated in a secret process which ensures that every knife has a blend of qualities (sharpness, strength, flexibility etc.) which is tailored to suit its purpose.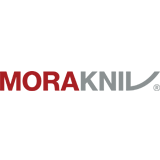 Additional information
| | |
| --- | --- |
| Weight | 0.08 kg |
| Colors | |
| Τύπος λάμας | |
| Blade Length | |
| Συνολικό μήκος | |
| Βάρος (γραμμ.) | |
| Τύπος ατσαλιού | |
| Υλικό λαβής | |