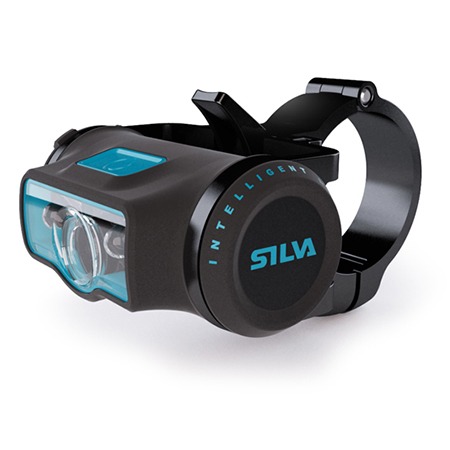 Following our "see and be seen" philosophy, this tough sport bikelight incorporates the proven Silva Intelligent Light® System to provide visibility while keeping you visible.
Waterproof Vélo also has no problem with rain or snow, making it a reliable partner in both urban and forest environments
Product Details:
Light modes: Max, med, min, blink, red, red blink
Batteries/type: 3xAAA
Discharge time (Min/Med/Max): 90h/48h/30h
Light distance: 50 m
Lumen: 110
Weight (excl. Batteries): 26g
Bulb type: 1x High powerLED, 2x 5mm wide LED, 1x red Top LED
Brand
Silva
Three entrepreneurial brothers. One great invention. In 1933, Björn, Alvar and Arvid Kjellström invented the first ever liquid-filled compass, and our story began. Not only was it the first compass of its kind, but is also set the global standard for how navigation works. The SILVA brand was born. A few years later, in 1935, we expanded our business to our new invention, and the first headlamp, Zeiler. We have since then continued to evolve and set trends for outdoor equipment. Since 1933, our goal has beed to develop outstanding outdoor equipment and to always keep moving forward. We highly value the opinions of our users, because without them, we wouldn't be able to create, invent and develop the way we have, and still do today. We put great trust in our ambassadors, who use our products with pride and grant us a teriffic source of valuable input. Our Scandinavian climate varies quite drastically, and offers us loads of different weather types and environments. We cherish the contrasts of our homes different locations and seasons, and they are our source of inspiration. The dark and snowy winters, warm and sunny summers and rainy falls, are putting our outdoor equipment to the greatest of tests: the constant variety of our weather conditions. Our development of outdoor equipment has made history. In recent years, we've won awards for our innovative and attractively designed headlamps, and we continue to push ourselves to evolve and deliver great outdoor equipment. Today, we focus on three main user areas; Sport, Adventure and Work. Each one of these areas are constantly evaluated and updated, for you to enjoy high quality products and always feel prepared and ready with SILVA.