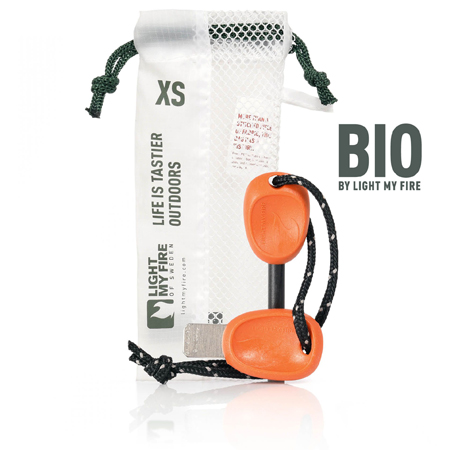 Description
The original magnesium fire starter is tough, durable and fit for purpose. Developed for the army it performs to the highest standard. 3,000 strikes at 3,000 degrees makes fire lighting possible in any weather at any altitude. Get the technique, get the fire, get warm and get the food on. Ergonomic design and a built-in whistle, nothing but the best.
• Durable, up to 3 000 strikes
• Works when it´s wet and windy
• Built-in emergency whistle
• Travel-safe
• Grip-friendly design
• Biobased plastic
• Made in Sweden
• Includes handy CircBag for easy storage
Material Features
Spark-sure magnesium alloy. Strong nylon cord. BIO-plastic handles. Stainless steel striker. Sustainable Features A low-waste way to ensure fire, again, again and again.
Brand
Light My Fire
Το 1995 ο ιδρυτής της Light My Fire, Michael Odqvist ανακάλυψε ένα παλιό μυστικό, τα MAYA STICKS. Γοητεύτηκε από την απόλυτη λάμψη αυτής της ρητινώδους ανάφλεξης. Όχι μόνο επειδή ήταν ένας γρήγορος, εύκολος και αξιόπιστος τρόπος στο άναμμα μιας φωτιάς, αλλά λόγω του ότι τα MAYA STICKS είναι επίσης εντελώς φυσικά. Παράγονται από πεσμένα πεύκα από ντόπιους στη Γουατεμάλα . Ξεκινώντας με το fair trade ( δίκαιο εμπόριο) ο MIchael Odqvist βοήθησε 400 απόγονους των Maya να κερδίσουν περισσότερα χρήματα για να αρχίσουν να πηγαίνουν τα παιδιά τους στο σχολείο. Το 1996 η Light my Fire παρουσίασε στο κοινό τον σπινθηριστή μαγνησίου που κατασκεύαζε για το Σουηδικό στρατό.Είναι ο τέλειος συνδυασμός για τα Tindersticks.
Και αυτή ήταν μόνο η αρχή για τη Light my Fire η οποία με το τρίπτυχο Σχεδιασμός,Πρακτικότητα και ποικιλία χρωμάτων δημιουργεί προϊόντα χρήσιμα τόσο για τους ενθουσιώδης του Outdoor αλλά και για τους ανθρώπους της πόλης.