GERBER ΜΙΝΙ TRI TIP CLEAVER
39.90 €
Not only relegated to the kitchen, the Tri-Tip Mini is a unique solution for a variety of daily tasks. The robust cleaver blade has two functions: a beveled leading edge is ideally positioned for scraping and the full fine edge knife easily handles cutting needs. The machined aluminum handle is textured for added grip and less slip while working.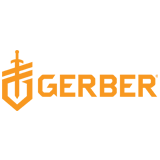 Description
At home on the trail, in the backyard kitchen, or at a tailgate, the standout design of the Tri-Tip rewrites what a utility blade can do. The cleaver blade is not only eye-catching w/ a satin finish but has two distinct functions: scraping and cutting. The multi-mount sheath can to be carried in two positions: tip down or scout carry. A lanyard hole is integrated into the handle as an additional place to the secure the knife.
Blade material: 7Cr17MoV stonewashed full tang
Blade Length: 7.3 cm
Overall Length: 14.6 cm
Brand
Gerber
Founded in 1939 and based in Portland, Oregon, USA, Gerber is an American brand whose products have global reach and relevance. Carried extensively by hunters, soldiers and tradesmen, Gerber's heritage runs deep. And we are now looking toward the future, where tomorrow's problems will be solved by the next generation of innovations.All Gerber products are designed and engineered in Portland, OR where many are produced. We also tap our global supply chain to create a wide range of activity specific gear for wide variety of consumers. And no matter what, every product that bears the Gerber name is backed by our famous lifetime warranty.Quality, reliability, innovation. For over 70 years this is what our customers have expected from us. And whether our products are used to save time, save the day, or save a life, Gerber always delivers.