Description
The unique handle design makes this very lightweight, yet surprisingly strong and durable axle very comfortable to use, and minimizes the risk of slipping from your hand.
The blade of the axe is made of boron steel with a black ED coating, and comes with a black leather protective cover.The polypropylene handle provides a firm grim.
The axe is lightweight for Camping and you can easily carry it in your backpack. The blade is made of boron steel and black epoxy coating with an anatomical and reinforced plastic handle.
Comes with a black leather protective cover.
WEIGHT: 521
BLADE LENGTH: 33 cm
BLADE THICKNESS: 6 mm
TYPE OF STEEL: BORON STEEL
COUNTRY OF ORIGIN: SWEDEN
Brand
Morakniv
Since the 17th century, knives made in Mora, Sweden have been used by people all over the world.
The Mora knife has become one of the most famous symbols of Sweden and over the years it has evolved from a simple everyday concept to the established brand Morakniv®.
Our knives are produced in Mora which gives us total control over the manufacturing process. A Morakniv® is designed to stay extremely sharp.
The steel of the blade is heat treated in a secret process which ensures that every knife has a blend of qualities (sharpness, strength, flexibility etc.) which is tailored to suit its purpose.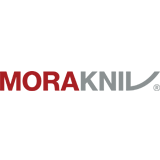 Additional information
| | |
| --- | --- |
| Weight | 0.521 kg |
| Dimensions | 13 × 4 × 36 cm |
| Colors | |