GERBER ΣΟΥΓΙΑΣ QUADRANT ΜΑΥΡΟΣ
45.00 €
Το Quandrant είναι ένα μοδάτο, αλλά και λειτουργικό προϊόν. Διαθέτει εύκολο άνοιγμα με το δάχτυλο και frame lock για να μένει η λεπίδα σταθερή στη θέση της. Η μοναδική λαβή του από μπαμπού του δίνει ένα τέλειο αποτέλεσμα και το κάνει να ξεχωρίζει, διαβεβαιώνοντάς σας πως δεν θα περάσει απαρατήρητο από κανέναν.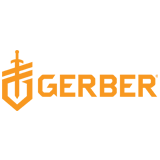 Description
The Quadrant speaks to those who seek a modern knife with unique handle materials and sleek blade with an ample cutting edge to handle those daily tasks. A pocket clip secures the knife while not in use.
Blade material: 7Cr17MoV
Blade length: 6.85 cm
Overall Length: 17.14 cm
Frame lock
Brand
Gerber
Founded in 1939 and based in Portland, Oregon, USA, Gerber is an American brand whose products have global reach and relevance. Carried extensively by hunters, soldiers and tradesmen, Gerber's heritage runs deep. And we are now looking toward the future, where tomorrow's problems will be solved by the next generation of innovations.All Gerber products are designed and engineered in Portland, OR where many are produced. We also tap our global supply chain to create a wide range of activity specific gear for wide variety of consumers. And no matter what, every product that bears the Gerber name is backed by our famous lifetime warranty.Quality, reliability, innovation. For over 70 years this is what our customers have expected from us. And whether our products are used to save time, save the day, or save a life, Gerber always delivers.