GERBER STAKEOUT GRAPHITE
59.90 €
Every trip is different but one thing remains the same: the gear you carry has to earn its keep. The Stake Out camp tool handles the activities that every trip faces: setting up camp, maintaining body and gear, cooking, and packing out. Weight, versatility, and packability influenced the design, making this multi-tool the ideal companion for every trip and every task.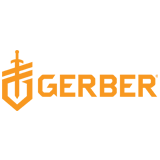 Description
The Stake Out handles the most important tasks every camper faces: maintaining body and equipment, cooking, and packing out. It's an innovative tool built to manage the campsite, with each of the 11 tools serving a distinct purpose.
• The tent stake puller is a useful feature which makes packing up and heading out a breeze.
• With a plain edge blade, saw, scissors, and awl, the Stake Out houses a variety of cutting tools for any need.
• Opposite the cutting tools, there is a ruler, bottle opener, file, and tweezers.
• A sturdy carabiner is built into the frame, making it easy to clip and go.
Eliminating the need to pack multiple tools, the Stake Out lightens your pack but is heavy on features. Weight, versatility, and packability influence the design making this multi-tool a go-to companion for every trip.
• 5.59 cm plain edge Scandi grind blade with frame lock
• Scissors
• Saw
• Awl
• Stake puller
• File
• Tweezer
• Bottle opener
• Ruler
• Ferro rod striker
• Closed length: 11,43 cm
• Open length (with knife extended): 16,76 cm
• Blade length: 5,58 cm
• Weight: 94,1 gr
• Width: 1,9 cm
• Limited lifetime warranty
Brand
Gerber
Founded in 1939 and based in Portland, Oregon, USA, Gerber is an American brand whose products have global reach and relevance. Carried extensively by hunters, soldiers and tradesmen, Gerber's heritage runs deep. And we are now looking toward the future, where tomorrow's problems will be solved by the next generation of innovations.All Gerber products are designed and engineered in Portland, OR where many are produced. We also tap our global supply chain to create a wide range of activity specific gear for wide variety of consumers. And no matter what, every product that bears the Gerber name is backed by our famous lifetime warranty.Quality, reliability, innovation. For over 70 years this is what our customers have expected from us. And whether our products are used to save time, save the day, or save a life, Gerber always delivers.