Description
When the going gets hot - Grandpa goes grilling. Why limit yourself to sausages or marshmallows? After all, everything tastes better outdoors! Grandpa's FireGrill is a great way to enhance your experience. Now it´s easy to cook your freshly caught fish packed with lemon slices and herbs.
Adjustable height for use with most food. The wire mechanism attaches the grill securely to a stick and it can be locked in place when folded out and used as a gridiron.
Collapsible for easy storage.
No need to cut fresh branches-attaches to practically any stick.
Material:stainless steel.
Actual size: 155x165x25mm
Weight: 106g
Brand
Light My Fire
Το 1995 ο ιδρυτής της Light My Fire, Michael Odqvist ανακάλυψε ένα παλιό μυστικό, τα MAYA STICKS. Γοητεύτηκε από την απόλυτη λάμψη αυτής της ρητινώδους ανάφλεξης. Όχι μόνο επειδή ήταν ένας γρήγορος, εύκολος και αξιόπιστος τρόπος στο άναμμα μιας φωτιάς, αλλά λόγω του ότι τα MAYA STICKS είναι επίσης εντελώς φυσικά. Παράγονται από πεσμένα πεύκα από ντόπιους στη Γουατεμάλα . Ξεκινώντας με το fair trade ( δίκαιο εμπόριο) ο MIchael Odqvist βοήθησε 400 απόγονους των Maya να κερδίσουν περισσότερα χρήματα για να αρχίσουν να πηγαίνουν τα παιδιά τους στο σχολείο. Το 1996 η Light my Fire παρουσίασε στο κοινό τον σπινθηριστή μαγνησίου που κατασκεύαζε για το Σουηδικό στρατό.Είναι ο τέλειος συνδυασμός για τα Tindersticks.
Και αυτή ήταν μόνο η αρχή για τη Light my Fire η οποία με το τρίπτυχο Σχεδιασμός,Πρακτικότητα και ποικιλία χρωμάτων δημιουργεί προϊόντα χρήσιμα τόσο για τους ενθουσιώδης του Outdoor αλλά και για τους ανθρώπους της πόλης.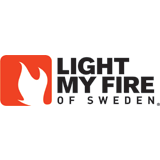 Additional information
| | |
| --- | --- |
| Weight | 0.106 kg |
| Dimensions | 16.5 × 2.5 × 15.5 cm |