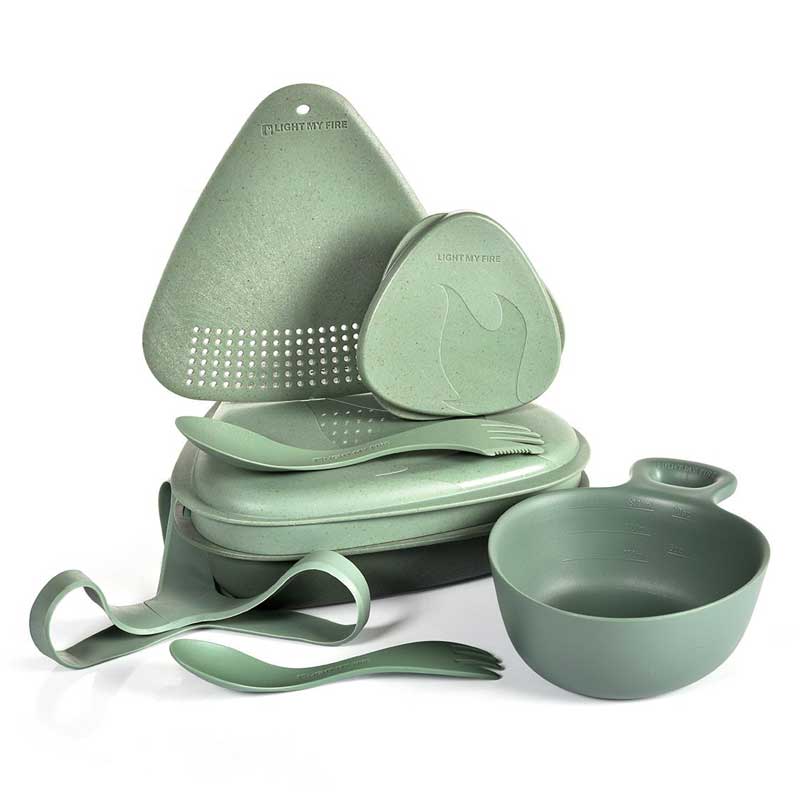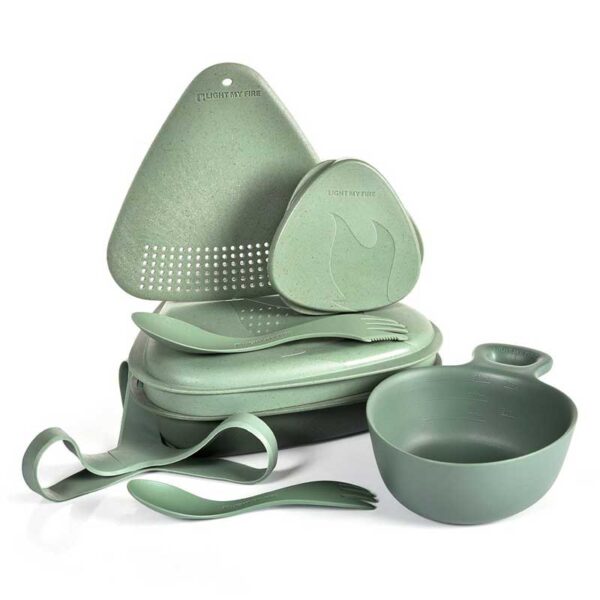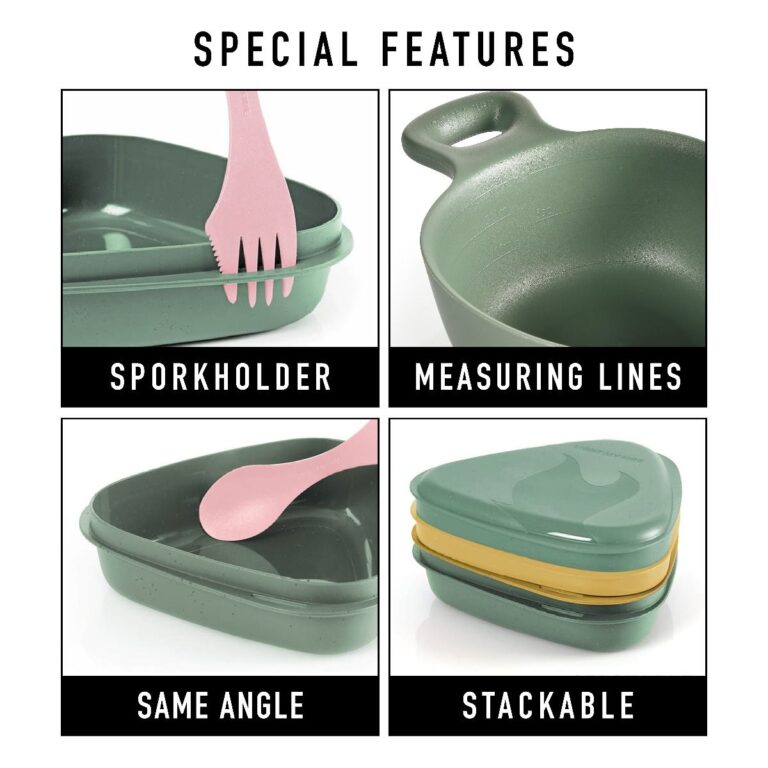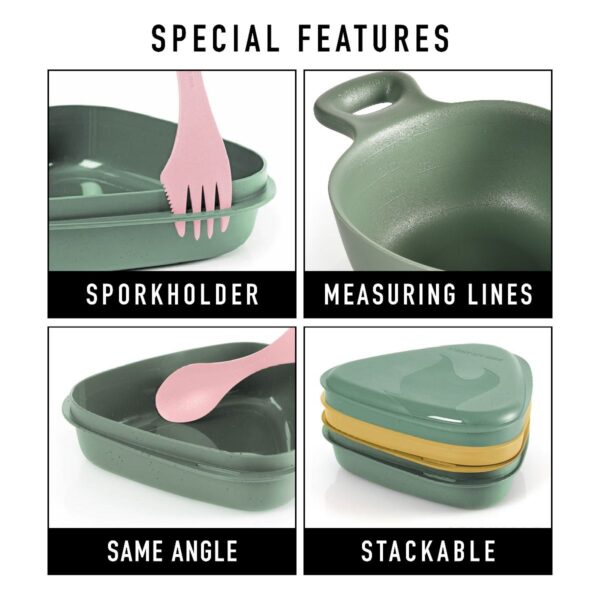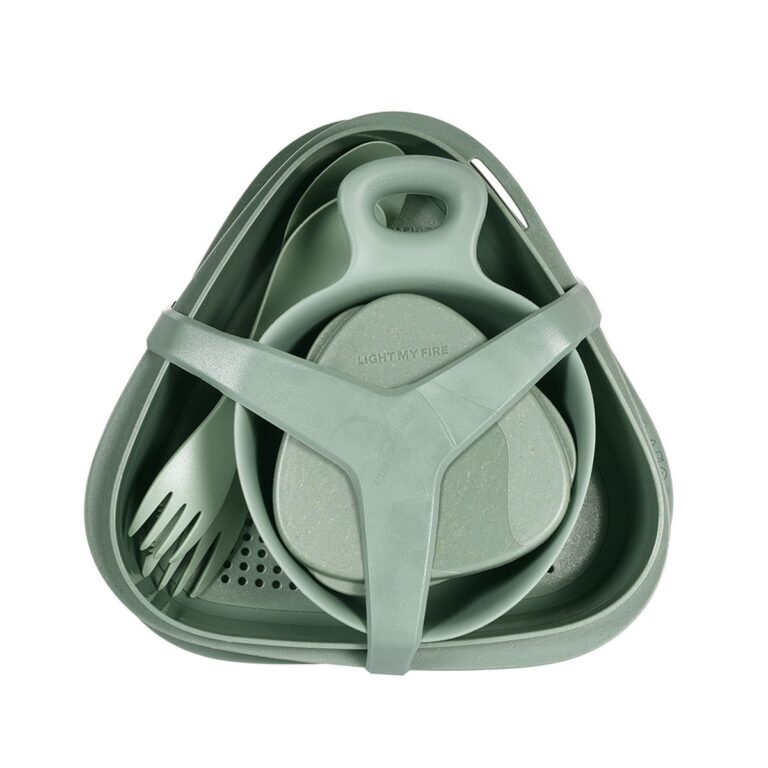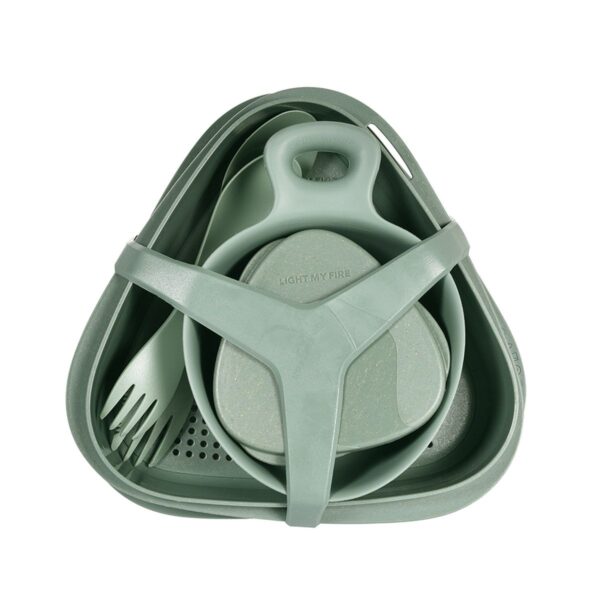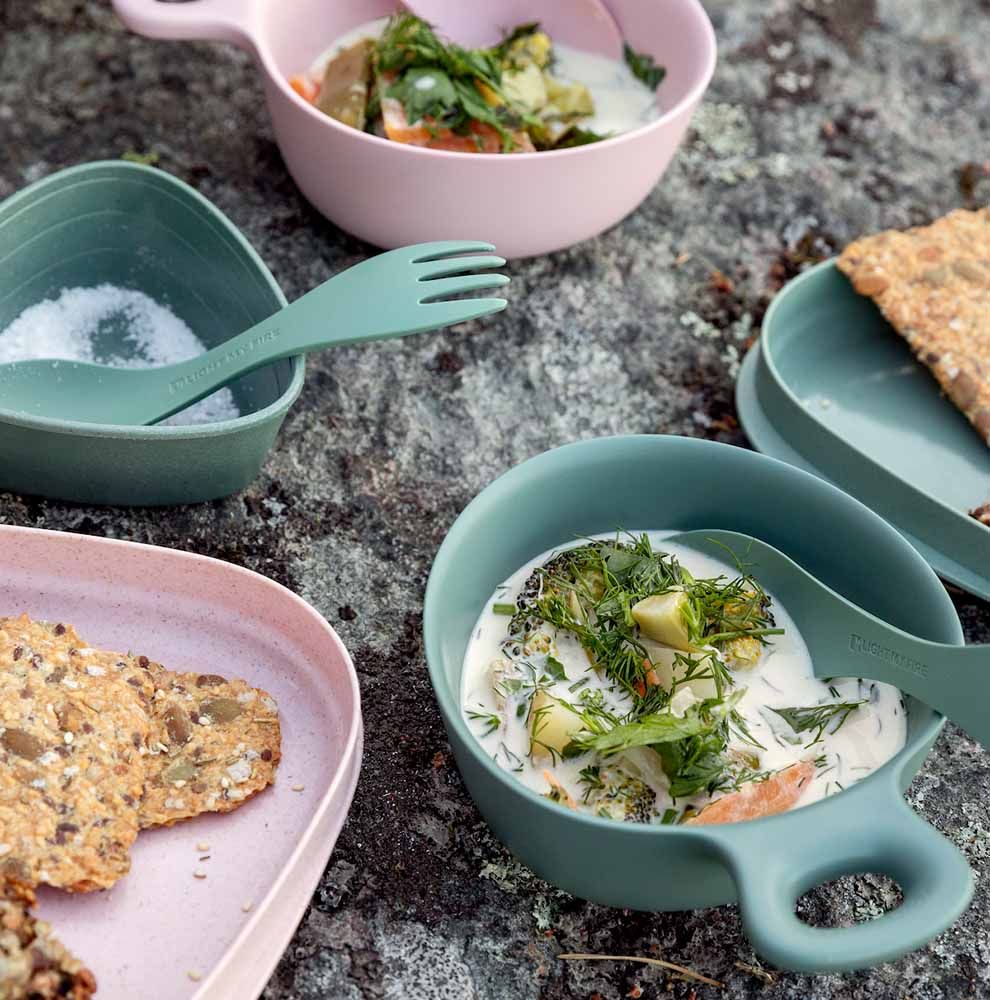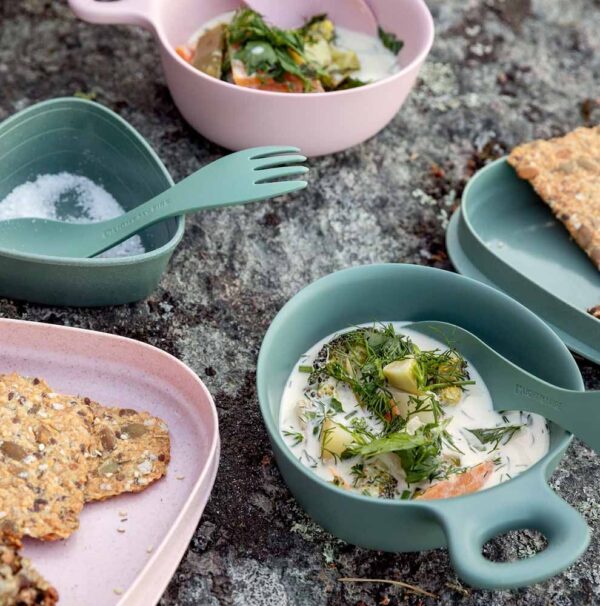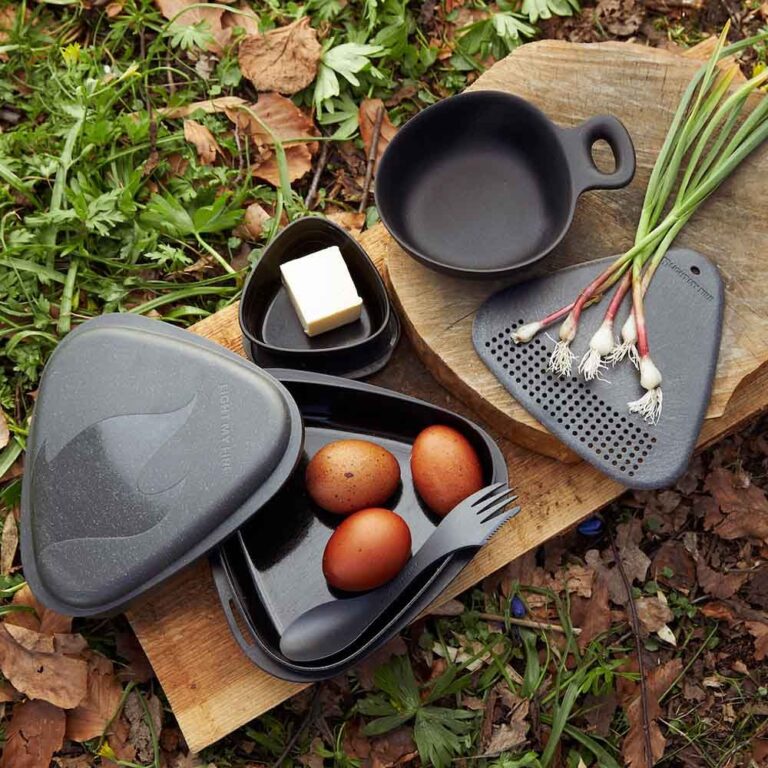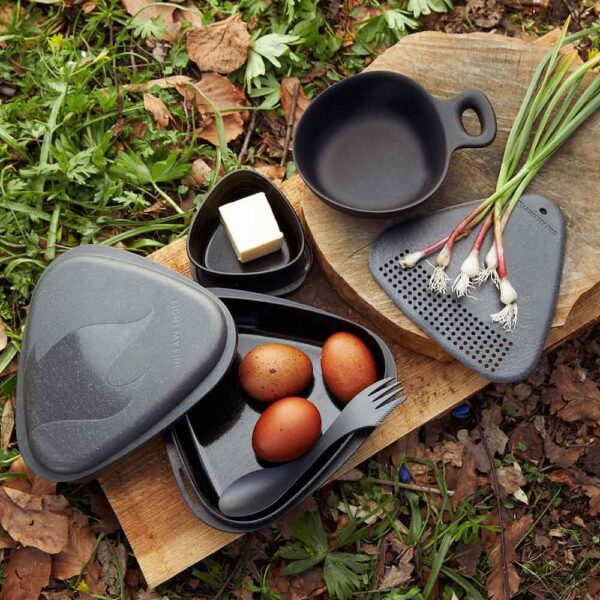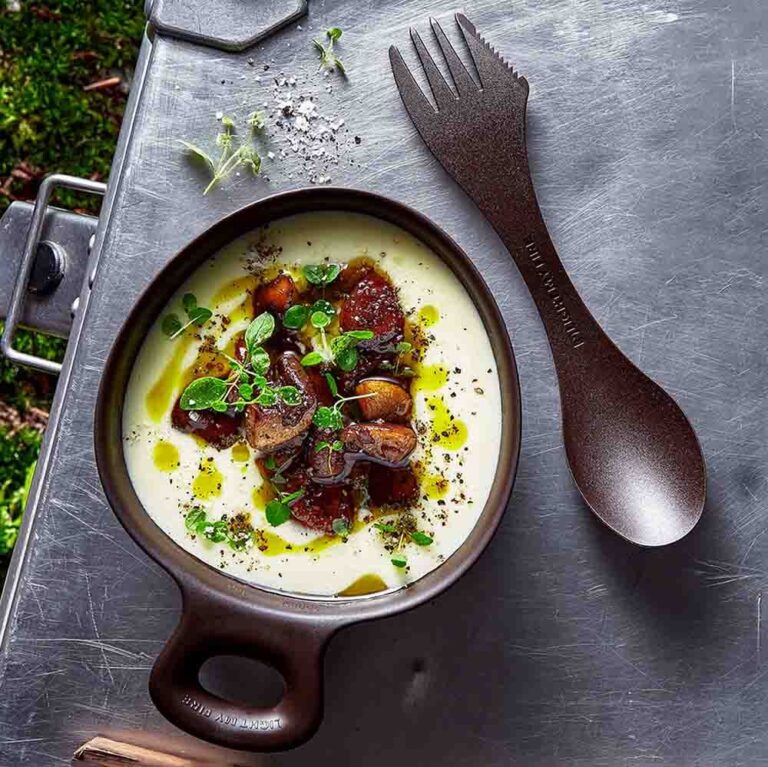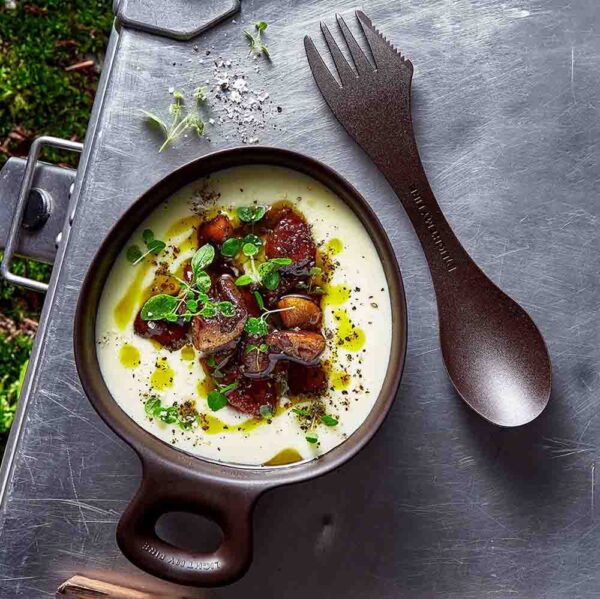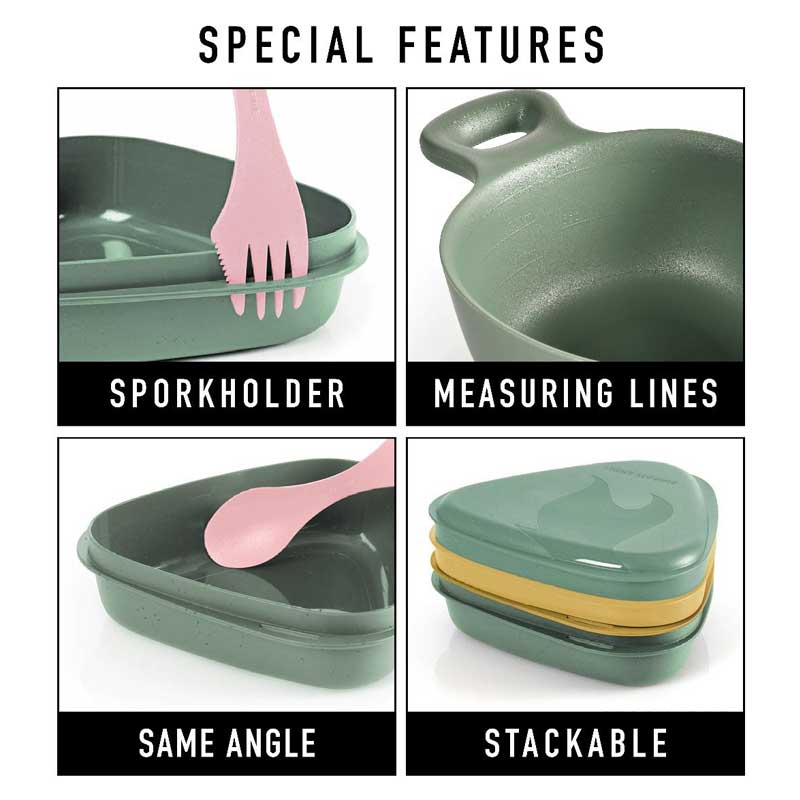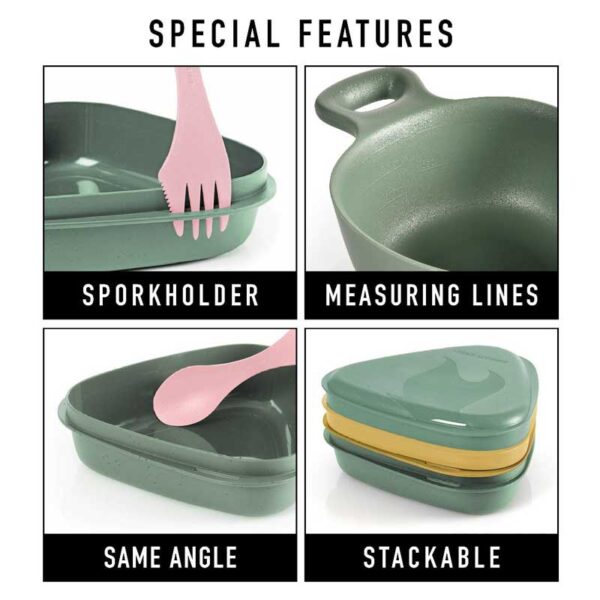 Designed especially for Light My Fire by Scandinavian designer Joachim Nordwall, Outdoor MealKit BIO είναι ένα εύχρηστο σετ γεύματος «όλα σε ένα». Τα καπάκια κλεισίματος ασφαλίζουν τα περιεχόμενα μέσα στα δοχεία και δεν υπάρχει κίνδυνος να ανοίξουν μέσα στην τσάντα σας. Οι εσωτερικές γραμμές μέτρησης σας επιτρέπουν να πάρετε μαζί σας μόνο ότι χρειάζεστε. H εύχρηστη επιφάνεια κοπής- σουρωτήρι, σας επιτρέπει να κόψετε τα λαχανικά σας και να στραγγίξτε τα ζυμαρικά όταν τελειώσει το μαγείρεμα. Και όταν το δείπνο είναι έτοιμο, απλώς χρησιμοποιήστε την πλάκα και το μπολ για να φάτε ένα νόστιμο γεύμα με το πρωτότυπο Spork που είναι ένα combo κουτάλι-πιρούνι-μαχαίρι. Η ομορφιά αυτού του κιτ είναι ότι όλα φωλιάζουν μέσα στο μεγάλο δοχείο του σετ. Τέλος, όλα τα εξαρτήματα μπορούν να μπουν στο πλυντήριο πιάτων και στο φούρνο μικροκυμάτων με ασφάλεια, και είναι κατασκευασμένα από Biobased πλαστικά που είναι 100% χωρίς BPA. Αυτό κάνει το κιτ ευέλικτο να χρησιμοποιηθεί στο σχολείο ή την εργασία.
Περιέχει: 1 ρηχό πιάτο 500ml 1 βαθύ πιάτο 900ml, ένα τριγωνικό μπολ 170ml, μια σουηδική κούπα Kasa 300ml, 1 επιφάνεια κοπής-σουρωτήρι, ένα κουταλομαχαιροπίρουνο original και ένα little και τέλος έναν ελαστικό ιμάντα που τα πιάνει όλα μαζί.Μπαίνουν όλα το ένα μέσα στο άλλο και έτσι πιάνουν λιγότερο χώρο και μπορούν να κουβαληθούν ευκολότερα.
all components are dishwasher
Μπορούν να χρησιμοποιηθούν στο φούρνο μικροκυμάτων
Υλικό: Κατασκευασμένα από 100% BPA GMO FREE βιοπλαστικό βασισμένο στο καλαμπόκι
Measurement: 185x190x60 mm
Brand
Light My Fire
In 1995 our founder, Michael Odqvist, came across an age-old secret - MayaSticks. He was fascinated by the sheer brilliance of this resinous kindling. Not only was it a quick, easy and reliable way to get a fire going, the sticks were also completely natural, produced from waste - the stumps left from felled pine trees - by locals in Guatemala. By starting fair trade production on a larger scale, Michael helped 400 of these descendents of Maya Indians make more money so that they were able to start sending their children to school. In 1996, we found the perfect match - the magnesium fire-starter that was developed and used by the Swedish Army. All of a sudden, everything fell into place. Not only was the Swedish FireSteel a great product in itself, it also was an unbeatable combination with the TinderSticks. One plus one equaled the ultimate way to start a fire in any weather, at any altitude.