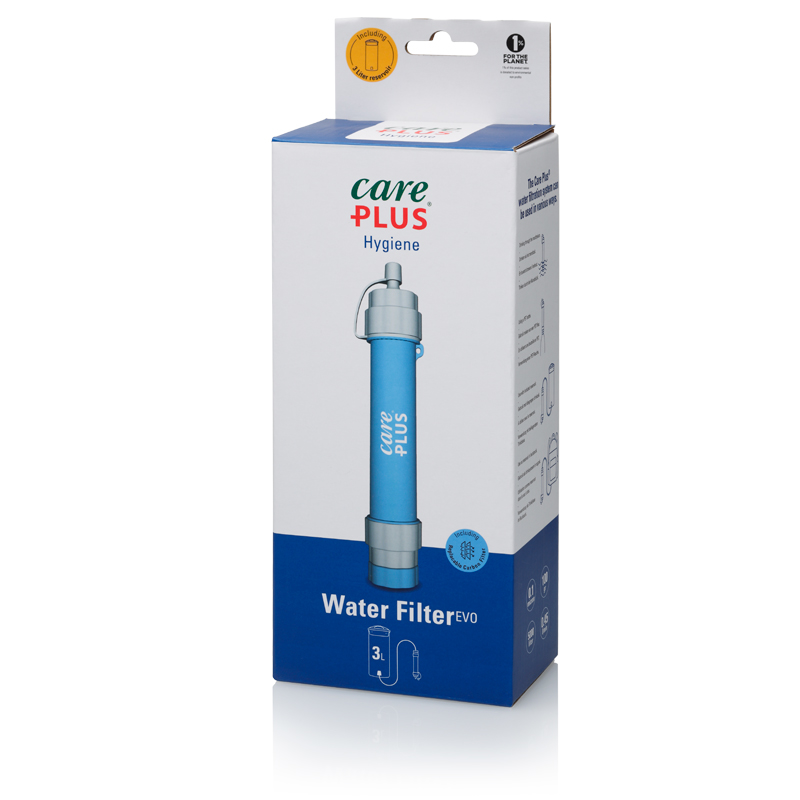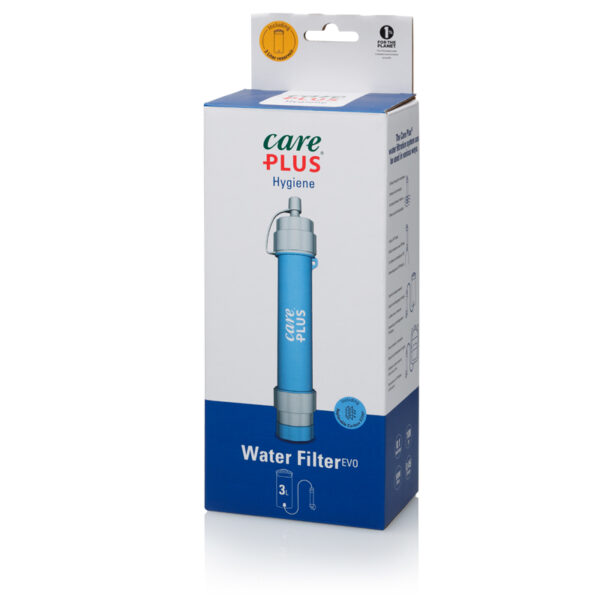 CARE PLUS HYGIENE WATER FILTER EVO
69.00 €
If you're heading out into the wilderness, there's a good chance you won't have reliable access to clean drinking water. The water may be contaminated with microorganisms, bacteria, and viruses –not the kind of water you want to drink. An inexpensive way to purify water is with the outdoor Care Plus® Water Filter and the Hadex® water disinfectant by Care Plus®.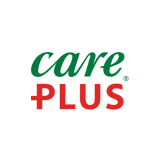 Description
How does it work?
The Care Plus® Water Filter EVO uses two filter elements.
Hollow microfibre filter: this filter element is the part that actually filters the impure water by means of the water through the microfiber tubes inside.
Replaceable carbon filter: this filter reduces the presence of chemicals and improves the taste of the water.
Microfibre tubes filter and trap harmful bacteria and protozoa. It filters water from any freshwater lake, river or stream. The technology of the water filter uses a cluster of microfibre tubes. It is based on the technology used in medical dialysis. The water passes through the side walls of the tubes to their hollow centre and flows out at the end of the tubes. Harmful bacteria and protozoa are retained on the outer walls of the tubes.
Maintenance
It is advisable to clean all parts at all times, as dirt and pathogens such as viruses can accumulate and reduce water flow. If the Care Plus® Water Filter EVO is not used for an extended period of time, or if the flow rate or taste quality has decreased, backwashing is recommended. Backwashing is more effective if it is done before the filter has dried. Housing, Hollow microfibre filter, Replaceable carbon filter, Drinking bag (3 litres) with supply hose, Storage bag and lanyard
Capacity up to 5000 litres, depending on water quality
Flow rate of 450 mL/m (without squeezing)
Fits in the palm of your hand
Can be easily cleaned
Membrane filter of 0.1 micron (pore diameter)
Filters out 99,9% of bacteria (E.coli)
Filters out 99.9% of parasites and protozoa (giardia lambilia and cryptosporidium)
Filters microplastics
Temperature range: 0-32°C
Weight: 110 gr
Dimensions Ø x H 4,5 x 15 cm
Brand
Foot Powder
Η Care Plus κατασκευάζει επαγγελματικά πακέτα πρώτων βοηθειών για περισσότερα από είκοσι χρόνια.Υπάρχει ένα κιτ για κάθε χρήστη, κάθε δραστηριότητα, και κάθε προορισμό. Πολλά ατυχήματα γίνονται μέσα και γύρω από το σπίτι και κατά τη διάρκεια των διακοπών. Με το κιτ πρώτων βοηθειών Care Plus®, μπορείτε να χορηγήσετε πρώτες βοήθειες σε περίπτωση τραυματισμού. Αυτοί οι τραυματισμοί μπορούν να αφορούν φουσκάλες, εγκαύματα και γρατσουνιές. Τα τραύματα πρέπει να αντιμετωπίζονται και να επιδένονται, ιδιαίτερα όταν το κλίμα σε είναι ζεστό και υγρό και η μόλυνση μπορεί να αναπτυχθεί γρήγορα.