Description
The new Mora 2000 (S) Anniversary Edition has a limited black colour to the optimal friction grip handle. The 2.5 mm thick polished blade is made of Swedish stainless steel of the highest quality, hardened and treated in our factory in Mora, according to a secret company recipe. The blade of this special edition is marked with an engraving, dating the years of Morakniv 1891 – 2021. The Scandi grind profile makes it easy to keep sharp, while the blade also has a profile grind for increased precision. Just as the original Mora 2000 the spine is rounded. Also, the polymer handle doesn't conduct cold, which means that working with the knife is equally safe and comfortable any time of year. The sheath made in black polymer has an adaptable black leather strap so the knife is always close at hand on your belt or rucksack. This knife is a must for the outdoor enthusiast 's next adventure. Made in Sweden, refined from our iconic past.
Handedness: Left handed, Right Handed
Steel type: Stainless Steel
BLADE TYPE: 10.9 cm
BLADE LENGHT: 10.9 cm
BLADE THICKNESS: 2,5 mm
TOTAL LENGHT: 22.4 mm
WEIGHT: 138 g
This knife cannot be used with a fire starter.
This is knife is not fire steel compatible. This means that we have prioritized a sharp and durable edge together with a firm grip, which means that the appearance of the blade back is not given as much space. If you use this knife in contexts other than those intended, remember that it has this unpolished blade back – so it cannot be used with a fire starter.
Brand
Morakniv
Since the 17th century, knives made in Mora, Sweden have been used by people all over the world.
The Mora knife has become one of the most famous symbols of Sweden and over the years it has evolved from a simple everyday concept to the established brand Morakniv®.
Our knives are produced in Mora which gives us total control over the manufacturing process. A Morakniv® is designed to stay extremely sharp.
The steel of the blade is heat treated in a secret process which ensures that every knife has a blend of qualities (sharpness, strength, flexibility etc.) which is tailored to suit its purpose.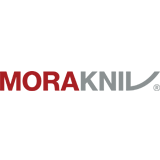 Additional information
| | |
| --- | --- |
| Weight | 0.138 kg |
| Colors | |
| Τύπος λάμας | |
| Blade Length | |
| Συνολικό μήκος | |
| Τύπος ατσαλιού | |
| Βάρος (γραμμ.) | |
| Υλικό λαβής | |