GERBER DOWNRANGE TOMAHAWK
405.00 €
A marvel of simplicity, this tool has a single-minded goal: to settle the breaching argument. No barrier is a match for the beveled edge axe head, the hammer head element, or the pry bar built into the tan G-10 handle. A 420HC steel body won't break under pressure.
Out of Stock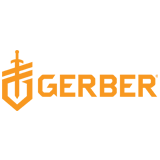 Description
When you're in a situation where time is of the essence, you can't waste time wondering if you have the right tool for the job. No matter what's on the other side of that door or barrier, you want a tool with the same single-minded determination as the man wielding it. The Gerber Tactical Downrange Tomahawk is a marvel of simplicity and efficiency in service of solving serious problems. No moving parts to break or jam, no extraneous gimmicks to get in the way—just a well thought-out design and three-quarters of a century of Gerber craftsmanship in your hands.
TRIPLE-PURPOSE AXE HEAD
There's no arguing with a tomahawk. This is largely due to the Downrange's three-tiered approach to tactical breaching. The axe head's beveled edge is capable of chopping through drywall and turning walls and doors to splinters. The backside of the axe head functions as hammer for getting through hinges, locks, doorknobs and anything else that's there to slow you down. The third threat is a pry bar at the end of the handle, controlled by a cutaway grip in the axe head.
SERIOUS PRY BAR
Opposite the business end of the Downrange Tomahawk is a hefty pry bar. With a solid marriage of physics and force, you can confidently pry away using the cutaway handle in the axe head for leverage. The 420HC steel body with Cerakote™ will not bend or break, and the desert tan G-10 handle has integrated scales to keep the tool firmly in your hands no matter the conditions.
PACKS LIKE A PRO
Tomahawks don't exactly fit in your pocket, so it comes with a sheath that's as practical as the tool itself. No matter what line of duty you serve in, if this tool is going to make it to where the action is, it has to be easy to carry. Which is where the MOLLE-compatible sheath comes into play. It readily attaches to your pack, standard webbing or body armor, so it goes where you do.Product Details:
Overall Length: 48.9 cm
Weight: 861.8 g without Sheath, 1133.9 g with sheath
Steel Type: 420HC steel body with Cerakote™
Handle material: G-10
Desert Tan G-10 Scales on Handle
Unique Gerber design axe head with integrated Prying Handle
Built in USA w/ global materials – sheath made in China
PGlmcmFtZSBzcmM9Imh0dHBzOi8vd3d3LnlvdXR1YmUuY29tL2VtYmVkL2xqd2NJTXpibnU0IiB3aWR0aD0iNTYwIiBoZWlnaHQ9IjMxNSIgZnJhbWVib3JkZXI9IjAiIGFsbG93ZnVsbHNjcmVlbj0iYWxsb3dmdWxsc2NyZWVuIj48L2lmcmFtZT4=
Brand
Gerber
Founded in 1939 and based in Portland, Oregon, USA, Gerber is an American brand whose products have global reach and relevance. Carried extensively by hunters, soldiers and tradesmen, Gerber's heritage runs deep. And we are now looking toward the future, where tomorrow's problems will be solved by the next generation of innovations.All Gerber products are designed and engineered in Portland, OR where many are produced. We also tap our global supply chain to create a wide range of activity specific gear for wide variety of consumers. And no matter what, every product that bears the Gerber name is backed by our famous lifetime warranty.Quality, reliability, innovation. For over 70 years this is what our customers have expected from us. And whether our products are used to save time, save the day, or save a life, Gerber always delivers.