OUT OF STOCK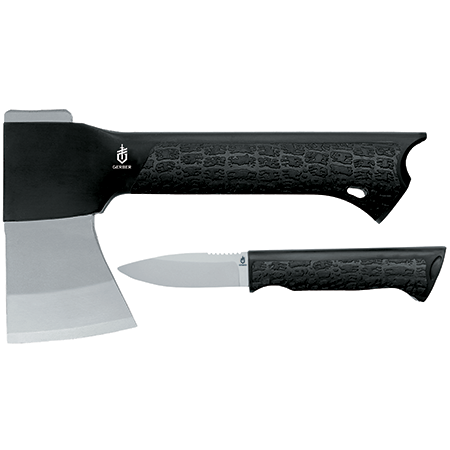 GERBER COMBO AXE WITH KNIFE
69.90 €
This stout combo fits perfectly in hand, offering double the utility with a fixed blade knife fitting snugly into the handle cavity. WIth Gerber's renowned Gator Grip offering unparalleled comfort on both tools and a forged steel axe head, you will quit long before your tools do.
Out of Stock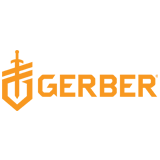 Description
Axes have been around for ages. And even our award-winning axes are hardly new. But the Gator Axe is a wood-bustin' breakthrough. Because we applied our proprietary Gator textured rubber to the grip for an unprecedented level of comfort and control. Beneath that tactile rubber surface is a virtually indestructible glass-filled nylon handle. And inside that handle is a hollow area containing a magnet that can hold a knife. The axe head is engineered from forged steel, which does an outstanding job of keeping its edge.

Specifications
Axe
Overall Length: 21.9 cm
Blade Length: 6.75 cm
Weight: 673 g
Head: Forged Steel
Handle Material: GatorGrip ®
Knife
Overall Length: 17.5 cm
Blade Length: 16.75 cm
Weight: 57 g
Additional information
| | |
| --- | --- |
| Weight | 0.730 kg |
| Colors | |
| Τύπος λάμας | |
| Blade Length | |
| Συνολικό μήκος | |
| Βάρος (γραμμ.) | |
Brand
Gerber
Founded in 1939 and based in Portland, Oregon, USA, Gerber is an American brand whose products have global reach and relevance. Carried extensively by hunters, soldiers and tradesmen, Gerber's heritage runs deep. And we are now looking toward the future, where tomorrow's problems will be solved by the next generation of innovations.All Gerber products are designed and engineered in Portland, OR where many are produced. We also tap our global supply chain to create a wide range of activity specific gear for wide variety of consumers. And no matter what, every product that bears the Gerber name is backed by our famous lifetime warranty.Quality, reliability, innovation. For over 70 years this is what our customers have expected from us. And whether our products are used to save time, save the day, or save a life, Gerber always delivers.