GERBER MINI PARAFRAME TANTO 31-003631
16.90 €
This lightweight everyday carry knife has an open frame that is the ultimate in minimalist design. Easy to clean, carry, and open, the Paraframe is an effortless addition to your pocket or belt clip. Available in multiple blade variations, this knife handles it all.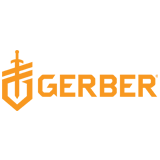 Description
Keys? Check. Wallet? Check. Tactical knife? Check. At a mere 1.5 ounces, there's no reason not to include the Gerber Mini Paraframe Tanto on your daily checklist. Answering the call for a minimalist tactical blade, this small knife is a simple but effective tool.

PARAFRAME DNA

Lighter than a set of car keys, this small knife comes from the same drawing board as its larger Paraframe siblings and gives new meaning to the term "traveling light." The fine edge blade and tanto point are small but remain effective for a wide array of daily needs, from slicing through stubborn rope to opening a cardboard box.
SMALL DETAILS

Don't let the 3-inch folded size of the Mini fool you; Gerber gives this little guy the same attention to detail that has won the larger Paraframe models a dedicated following. You'll notice the same ergonomic metal handle and frame lock design, and it delivers the same positive blade engagement and balanced feel, even at this size.
Specifications
Overall Length: 13.34 cm
Blade Length: 5.41 cm
Closed Length: 7.95 cm
Weight: 43 g
Steel Type: 7Cr17MoV
Handle Material: 3Cr13Handle Material: 3Cr13
Tanto-style blade is ready to puncture, slice and perform detailed work
Black titanium nitride-coated blade reduces unwanted reflection and defends against corrosion
Full fine edge blade is easy to sharpen
Frame lock offers bomber blade control
Pocket clip offers security and keeps your knife within easy reach at all times
Small size disappears in your pocket
Additional information
| | |
| --- | --- |
| Weight | 0.043 kg |
| Dimensions | 14 × 1.1 × 15.1 cm |
| Colors | |
| Τύπος λάμας | |
| Συνολικό μήκος | |
| Κλειστό μήκος | |
| Blade Length | |
| Υλικό λαβής | |
| Τύπος ατσαλιού | |
| Βάρος (γραμμ.) | |
Brand
Gerber
Founded in 1939 and based in Portland, Oregon, USA, Gerber is an American brand whose products have global reach and relevance. Carried extensively by hunters, soldiers and tradesmen, Gerber's heritage runs deep. And we are now looking toward the future, where tomorrow's problems will be solved by the next generation of innovations.All Gerber products are designed and engineered in Portland, OR where many are produced. We also tap our global supply chain to create a wide range of activity specific gear for wide variety of consumers. And no matter what, every product that bears the Gerber name is backed by our famous lifetime warranty.Quality, reliability, innovation. For over 70 years this is what our customers have expected from us. And whether our products are used to save time, save the day, or save a life, Gerber always delivers.