GERBER EXO-MOD DROP POINT GE-30-001797
39.90 €
The Gerber Exo-Mod Drop Point No two hunts are exactly alike: the pack you carry, the terrain you face, and the game you hunt all influence the gear you bring. The Exo-Mod series caters to this reality. Build the kit that suits your pursuit, using one independently or nesting multiple together to handle any task in the field.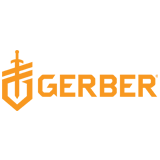 Description
Whether hunting, backpacking, camping, or any other outdoor pursuit, having the appropriate tools is critical. The Exo-Mod snap-together sheath system empowers users to carry what they need and nothing more. With a skeletonized full-tang design, each product in the Exo-Mod Series boasts of light weight structure while maintaining durability.
Specifications
Blade material: 7Cr17MoV
Material Handle: rubber
Blade lenght: 9.7 cm
Lenght: 21.9 cm
Weight 75 gr
Brand
Gerber
Founded in 1939 and based in Portland, Oregon, USA, Gerber is an American brand whose products have global reach and relevance. Carried extensively by hunters, soldiers and tradesmen, Gerber's heritage runs deep. And we are now looking toward the future, where tomorrow's problems will be solved by the next generation of innovations.
All Gerber products are designed and engineered in Portland, OR where many are produced. We also tap our global supply chain to create a wide range of activity specific gear for wide variety of consumers. And no matter what, every product that bears the Gerber name is backed by our famous lifetime warranty.Quality, reliability, innovation.
For over 70 years this is what our customers have expected from us. And whether our products are used to save time, save the day, or save a life, Gerber always delivers.