GERBER 17.5" FREESCAPE CAMP HATCHET 31-002536
79.90 €
This evolved hatchet features efficient strength in a slim profile. With a new black PTFE coating on the blade and a unique grind technique, the steel blade is sharper than ever. Expect clean cuts far longer than average from this smart axe, for use at the campsite and beyond.
Out of Stock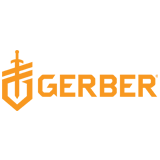 Description
Featuring an innovative easily-removed sheath that maintains a slim profile, the 17.5" Freescape Hatchet serves well in its capacity as a rough, ready, and clever tool in the Gerber Freescape series.
TACKLE ANY CAMPSITE DUTY
With a forged steel head that's world class in strength, and a design that ensures efficient and reliable chopping, the 17.5" Freescape Hatchet can tackle a myriad of campsite duties. Create kindling for the fire, pound in tent stakes, or make a primitive shelter with ease. Coated with a low-friction surface, the hardened blade slices through wood at a greater than average depth, allowing for faster chopping and maximum overall performance efficiency.
BRIGHT ACCENTS FOR QUICK VISUAL ID
Keep the 17.5" Freescape Hatchet's solid composite handle with soft touch over-mold firmly and comfortably in the hand no matter the conditions. With bright green accents juxtaposed against the black glass-filled nylon of the handle, it draws just the right amount of attention to itself so as not to get left behind.
• Forged Steel Head
• Soft Touch Handle Over-mold for Comfort and Ease of Use
• Composite Handle is Extremely Durable and Lightweight
• Made in Finland
Limited lifetime warranty
• Length: 43.9 cm
• Weight: 935.5 g
Brand
Gerber
Founded in 1939 and based in Portland, Oregon, USA, Gerber is an American brand whose products have global reach and relevance. Carried extensively by hunters, soldiers and tradesmen, Gerber's heritage runs deep. And we are now looking toward the future, where tomorrow's problems will be solved by the next generation of innovations.All Gerber products are designed and engineered in Portland, OR where many are produced. We also tap our global supply chain to create a wide range of activity specific gear for wide variety of consumers. And no matter what, every product that bears the Gerber name is backed by our famous lifetime warranty.Quality, reliability, innovation. For over 70 years this is what our customers have expected from us. And whether our products are used to save time, save the day, or save a life, Gerber always delivers.