Description
A reliable companion
There's something for everybody amongst the different knives,whether you're planning a trip to the hut by the lake or a more survival-themed adventure.Just as the name suggests,it's a trusty partner to have with you in your belt or rucksack.The handle is resistant to shocks and the rubber of the grip surface means you hold the knife steadily and securely.The basic Companion model is a perfect entry-level model for young or new knife users.
WEIGHT: 118 gr
BLADE LENGTH: 10.4 cm
LENGTH: 21.9 cm
HARDNESS: 58 HRC
BLADE THICKNESS: 2.5 mm
TYPE OF STEEL: 12C27 SANDVIK
BLADE SHAPE: DROP POINT
COUNTRY OF ORIGIN: SWEDEN
Brand
Morakniv
Since the 17th century, knives made in Mora, Sweden have been used by people all over the world.
The Mora knife has become one of the most famous symbols of Sweden and over the years it has evolved from a simple everyday concept to the established brand Morakniv®.
Our knives are produced in Mora which gives us total control over the manufacturing process. A Morakniv® is designed to stay extremely sharp.
The steel of the blade is heat treated in a secret process which ensures that every knife has a blend of qualities (sharpness, strength, flexibility etc.) which is tailored to suit its purpose.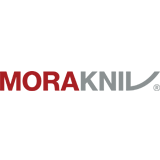 Additional information
| | |
| --- | --- |
| Weight | 0.118 kg |
| Dimensions | 14 × 3 × 30 cm |
| Colors | |
| Τύπος λάμας | |
| Blade Length | |
| Συνολικό μήκος | |
| Υλικό λαβής | |
| Βάρος (γραμμ.) | |
| Τύπος ατσαλιού | |